If you have a tendency to overdo your meats, especially pork tenderloin, let's talk. For years I overcooked my tenderloin (and other cuts), worried that 'pink' meant undercooked. So I'd sneak them back into the oven for an extra 5 minutes, and lo and behold, they turned out tough and overdone. They key to tenderloin, I've come to figure out, is perfecting a good outside sear (for delicious flavour), cooking just long enough, and allowing the meat to rest. AND, let's not forget about the rub. A good rub makes ALL the difference. This mint and dill rubbed pork tenderloin is on regular rotation in my kitchen for a few good reasons. Besides my obsession of late with fresh dill, it's a quick weeknight-friendly meal—only five minutes to prep the rub—and did I mention how yummy it is paired with sweet potato fries? So good.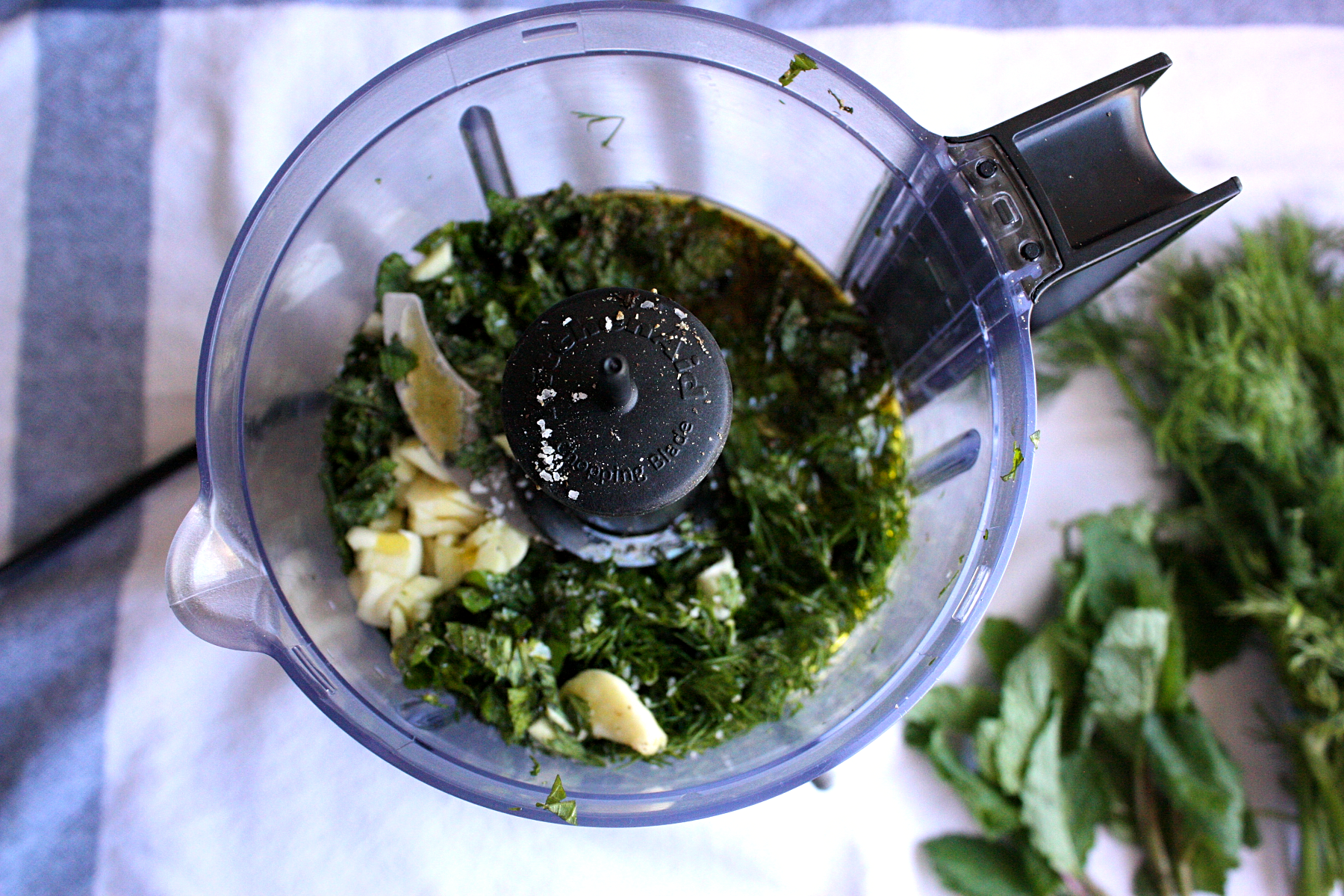 Look at all that flavour. I use my small kitchen aid food processor for just about everything, it's the perfect size for making a quick rub or dressing and easy to wash up.
Mint, dill, garlic, and olive oil. A couple pulses and voila. (Also delicious—add a small spoonful of the rub to a 1/4 cup of mayo to accompany sweet potato fries.)
With the rub made and set aside. Heat your grill and season your tenderloin. I drizzle olive oil, and generously rub kosher salt and freshly ground pepper on all sides.
See the brown bits? That's what we're aiming for. Brown on all sides (a couple minutes per side) and then slather on the rub.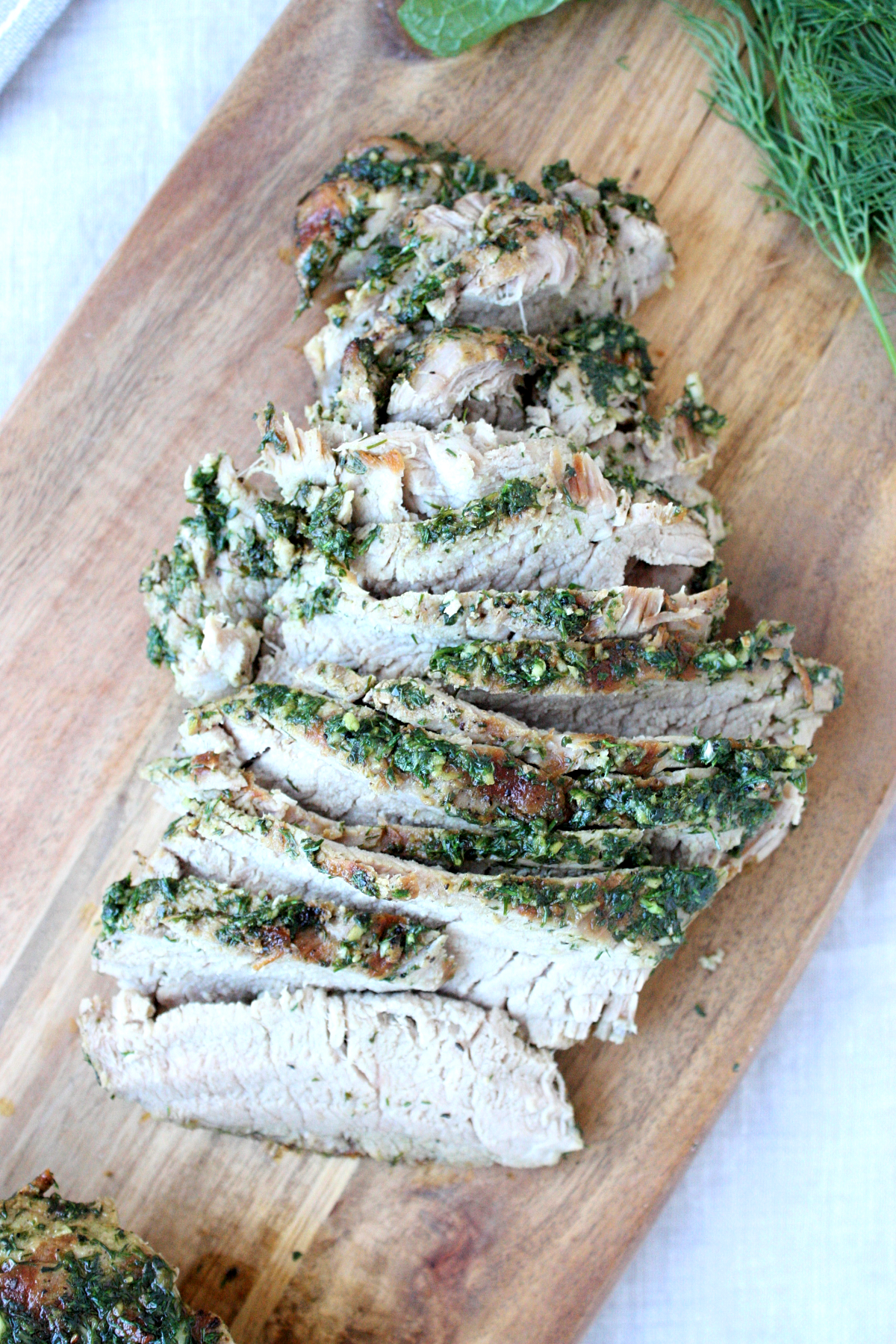 Not a pork fan? This rub is also delicious on beef and chicken.
Looking for more weeknight meal inspiration? Try my oven-baked sweet and sour chicken and roasted potato and corn frittata.
Mint and Dill Rubbed Pork Tenderloin
Ingredients
1.5

lbs

pork tenderloin

* this is generally the size I use to serve four - two adults, two kids

1/4

cup

fresh dill 

washed and stems removed

1/4

cup

fresh mint

washes and stems removed

1/4

cup

olive oil

* plus a drizzle

2

cloves

garlic

minced

a good pinch of kosher salt

* plus

freshly ground pepper

* plus
Instructions
Preheat oven to 400 degrees. Prepare rub by combining dill, mint, garlic, olive oil, salt (a good 1/2 tsp pinch), and pepper in a small food processor (or blender). Pulse until well combined. Set aside.

Drizzle olive oil over the pork tenderloin, followed by a healthy pinch of kosher salt and freshly ground pepper. Rub to coat all over.

Heat a stove-to-oven cast iron grill on the stove-top on medium heat. Allow it a few minutes to get good and hot. Note: do not oil the grill.

Place the tenderloin on the hot grill and sear each side for two minutes until brown. Don't skip over this step! This is where so much of the flavour develops. Once all sides are nicely browned, use a spatula or grill brush to rub the dill and mint mixture all over the tenderloin, setting aside a tbsp of the rub for later.

Place the tenderloin (still on the grill) directly into the oven and let cook for 15 minutes (if your tenderloin is much smaller, check after 10 minutes).

After 15 minutes, remove the tenderloin and slice through the middle. The tenderloin will still be quite pink, but will continue to cook while it rests. Brush the remaining rub over the tenderloin. Cover the tenderloin with aluminum foil and let rest for 10 minutes. Remove foil, slice thinly and serve with your fav sides.