Having a good go-to quiche recipe is a must. I mean, come on. It's literally a dish that works at breakfast, lunch and dinner…right? Right. Now, since we've established how critical it is for you to have a good quiche recipe up your sleeve, let me share my FAVORITE quiche recipe, one I've been making for more than 10 years. And that's excellent news for you, since I've been perfecting it along the way. So let me tell you about this delicious quiche lorraine and why you should probably make it tonight for dinner…or tomorrow for breakfast.
Ingredient stars include lots of parmesan reggiano, and crispy bacon. Eggs are just a vessel.
A good homemade shortcrust makes this even better and I recommend this recipe from Ricardo. If you're stretched for time, it's so OK to buy frozen pre-made at the market.
For the dish — I use a fairly large 10 inch pie dish (a little less than an inch and a half deep). If you're using a smaller, 9 inch dish, not to worry, your quiche will fit, but it will rise a little higher than mine.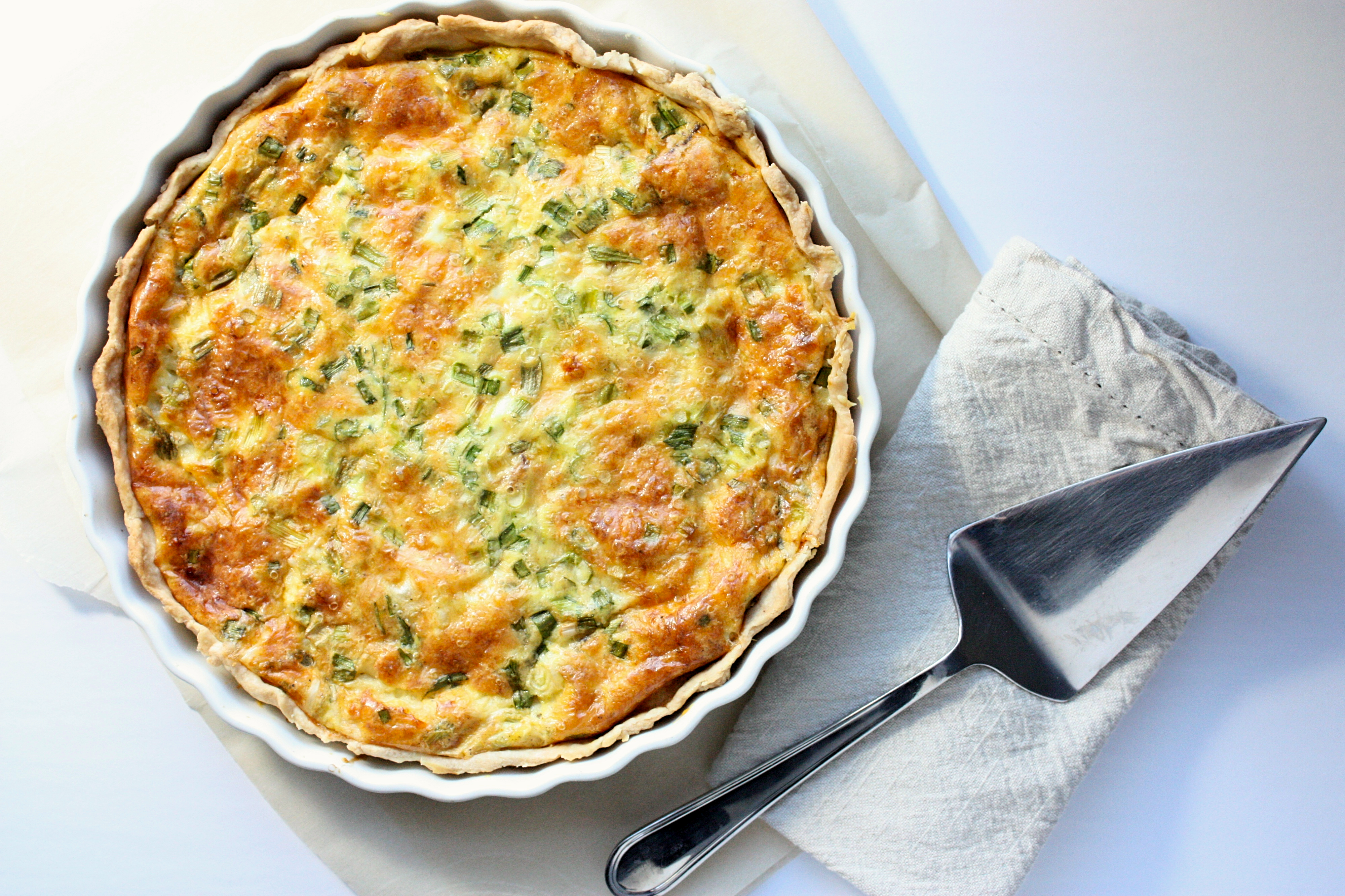 Shortcrust recipe (from Ricardo)
| | |
| --- | --- |
| Shortcrust recipe (from Ricardo) | |
Preheat oven to 400 degrees. In a food processor (or by hand), combine flour and salt. Add (in batches) the very cold cubed butter (it must be cold!). Pulse until the flour mixture resembles coarse crumbs. Slowly add in the ice water (while pulsing) just until dough begins to form. Don't overdo it.

Dump onto a clean surface and form into a ball. Quickly roll out dough (on a lightly floured surface) to a diameter large enough to fit your pie dish. Transfer to the pie plate and refrigerate for 30 minutes.

Bake shortcrust at 400 degrees for 10 minutes. Use pie weights to weigh down the crust!

Meanwhile, cook and crumble bacon and shred cheeses. Set aside. In a medium mixing bowl, beat eggs with cream, salt, pepper, onion powder, paprika, celery salt, nutmeg and green onions. Set aside.

Remove shortcrust from the oven and increase temp to 425. Evenly spread bacon and cheeses over crust to cover the bottom fully. Pour egg mixture over top.

Bake at 425 for 15 minutes. Lower temp to 325 and continue baking for 30 minutes. Enjoy!