Today I'm sharing my go-to weeknight meal of late, this creamy avocado spinach pasta. It's fresh, easy, healthy, and the kids love it. More and more we're going meatless, and with mains like this one, and this one, I don't feel that we're missing out. And factoring in the ease of a meatless dish I'm completely sold. [Sidebar—how often do you and yours eat meat centered meals? Tell me in the comments!]
Now, let me tell you what's great about this creamy pasta. First off, the avocado spinach-based sauce comes together in just a few minutes, in a blender. No stovetop messes, cans to open, or time spent simmering. Just easy, simple ingredients. I always have a box of washed baby spinach in the fridge and avocados on hand, so when I'm rushed or trying to come up with something at the last minute, this is it. Another win, this dish is super adaptable. No pine nuts, no problem, swap for walnuts or forgo altogether. Same for the spinach, if you don't have any on hand, try arugula, fresh basil leaves, or a combination thereof. And for the last minute addition of corn to the pasta pot, frozen peas or edamame would make good substitutes.
I usually get my pasta water boiling first, then move on to the sauce. Into a Vitamix (or other power blender) toss the olive oil, avocado, garlic, parmesan, spinach, pine nuts, lemon, and salt and pepper. Blend on the lowest setting (setting 1) until all the ingredients come together. You'll then want to dial up to the highest setting until the sauce becomes smooth and creamy (for me that's setting 10 for about 45 seconds). Side note, my newly acquired Vitamix is my pride and joy, and I honestly don't know how we survived in the past without it.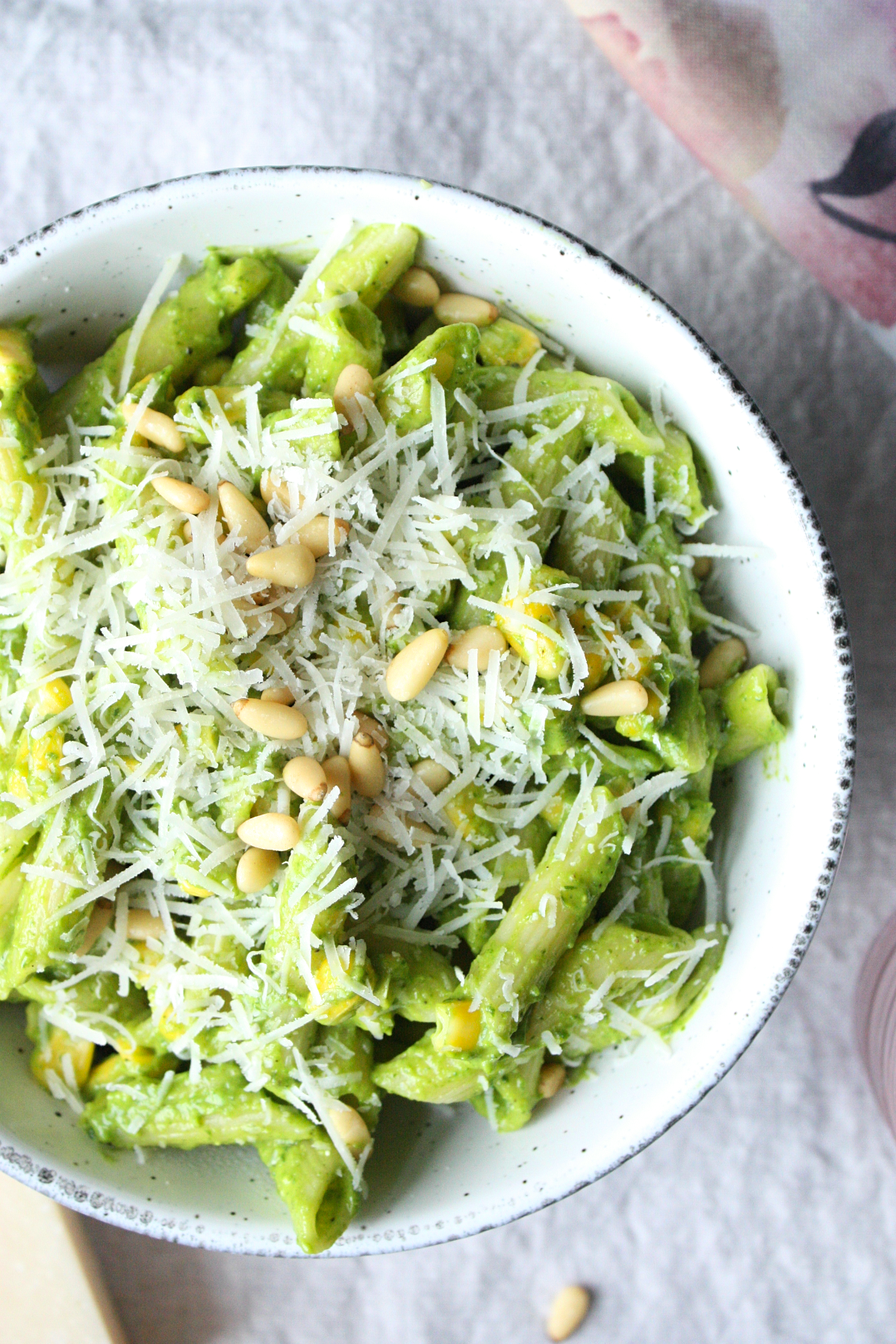 Fill a large stovetop pot halfway with water. Add a good pinch of salt and bring to a boil.

Add in penne (or pasta of your choice) and let boil for 10-12 minutes (depending on your preferred tenderness).

Meanwhile, in a blender (a Vitamix or other power blender is perfect here) add oil, avocado, garlic, parmesan, spinach, pine nuts, lemon, and salt and pepper.

Blend all on the lowest setting (setting 1 for Vitamix), until everything is well incorporated. Slowly increase to the highest blender setting (Vitamix 10) and blend until the sauce is creamy and smooth (about 45 seconds). Set aside. *If you find the sauce a touch thick or the blender blades become stuck, add in a tablespoon or two of pasta water. That should do the trick!

Returning to the pasta—a minute or two before the pasta is fully cooked, toss frozen corn into the same pot. Let cook for a minute or two before draining the pasta and corn in a large colander. Toss back into the pot.

Using a spatula, add the creamy avocado sauce to the pasta and corn and stir until well coated. Be sure to taste at this point, adding salt and pepper as needed.

Serve with grated parmesan and a sprinkle of pine nuts.
If you don't have a power blender, like the Vitamix or Ninja, I'm sure a regular old blender will do just fine (though I would expect the sauce to be less creamy and smooth - try it and let me know!).
A good food processor would likely do the job.