When it comes to deviled eggs, I feel that most people are either in the love em or hate em camp. If you're in the latter, well, off you go…maybe over to this party app. If you're in the former, like me, HEY! I've loved deviled eggs since I was a kid, maybe because they were always on the menu at ANY church gathering my mom (dragged) me to. Whatever the origin of my appreciation, here's why I still enjoy them and why adding a spoonful of fresh dill makes them even better.
Little effort for big flavor—filling up egg whites might be the most stenuous step and that's made quite effortless when using a snipped ziplock bag.
A lighter party snack that's NOT bad for you — okay, there's some mayo action happening, BUT eggs are great for you, and here we're adding in some extra bright green flavor with fresh dill.
Pretty plates. A platter of garnished deviled eggs is a very pretty addition to any buffet table, and especially fitting at tea parties, baby showers, and the like.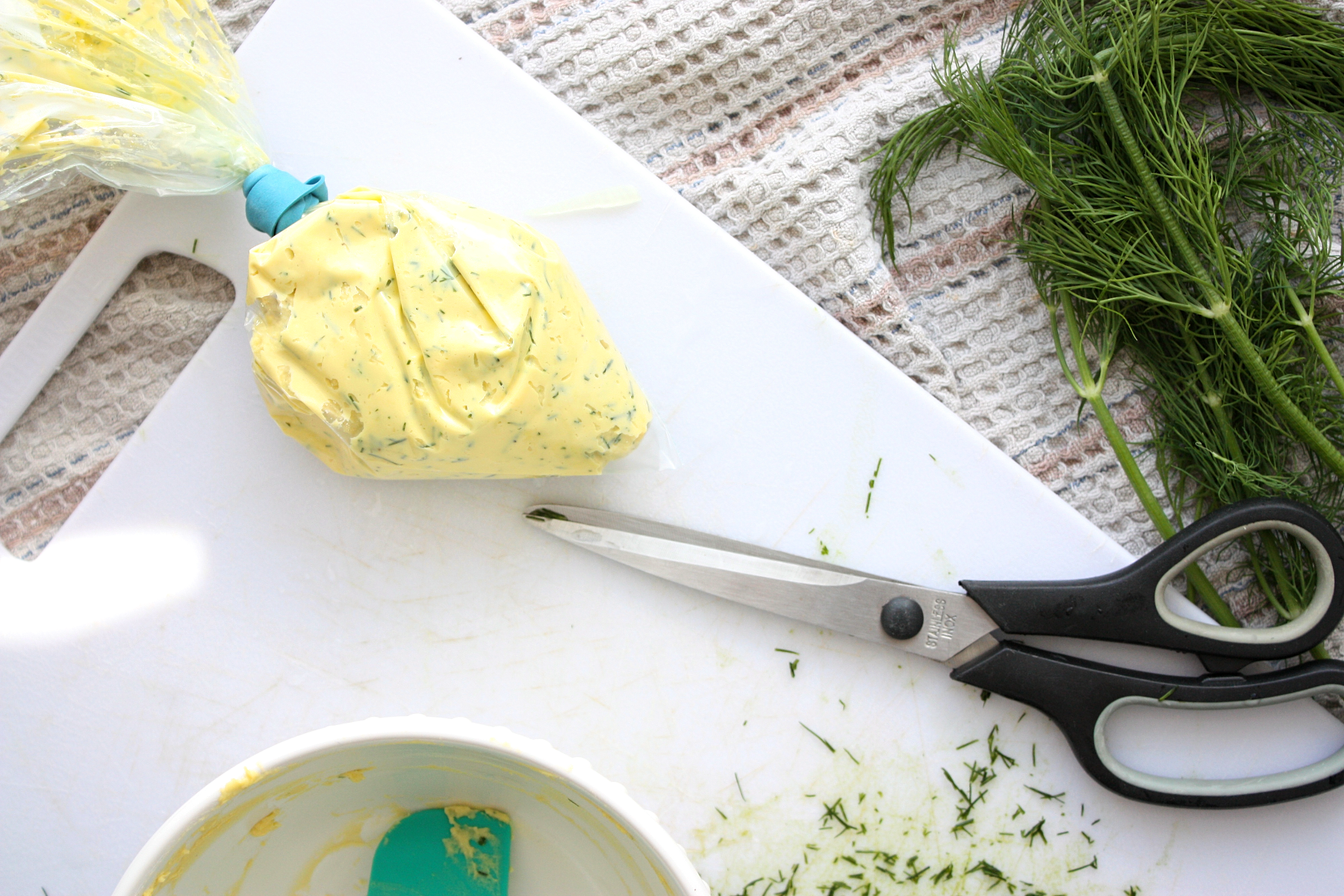 Much easier to fill the egg whites by squeezing the yolk mixture from a ziplock than by using a small scoop or spoon… and much less messy.
Looking for more quick and easy cocktail party recipe ideas…see these 5 minute maple toasted party nuts or my favorite hot crab dip.

Deviled Eggs with Fresh Dill
Yum
| | |
| --- | --- |
| | |
Bring a stovetop pot of water to a boil and gently add six large eggs. Cook for 10-12 minutes. Place eggs in a bowl of cold water with a handful of ice cubes. Let the eggs cool down fully—10-15 minutes.

Once cool, carefully remove shells and give them a little rinse in cold water to ensure no shell pieces remain. Gently pat dry with a paper towel.

Slice eggs in half lengthwise and carefully pop yolks into a small mixing bowl. Mash yolks until smooth. Add mayo, mustard, salt, pepper and 1 tsp of the fresh dill (reserve the rest for garnishing)—stir until well combined.

Using a small spatula, spoon yolk mixture into the bottom corner of a large ziplock bag. Use an elastic to keep the mixture down in the corner (see picture). Snip off the corner (make a ~1/2 inch hole) and gently squeeze yolk filling back into egg whites.

Sprinkle the remaining tsp of dill over the deviled eggs and add a pinch of salt and pepper. Enjoy!