Butterscotch Marshmallow Squares || Colorful, fudgy, butterscotch squares, loaded with mini marshmallows and crushed social tea cookies.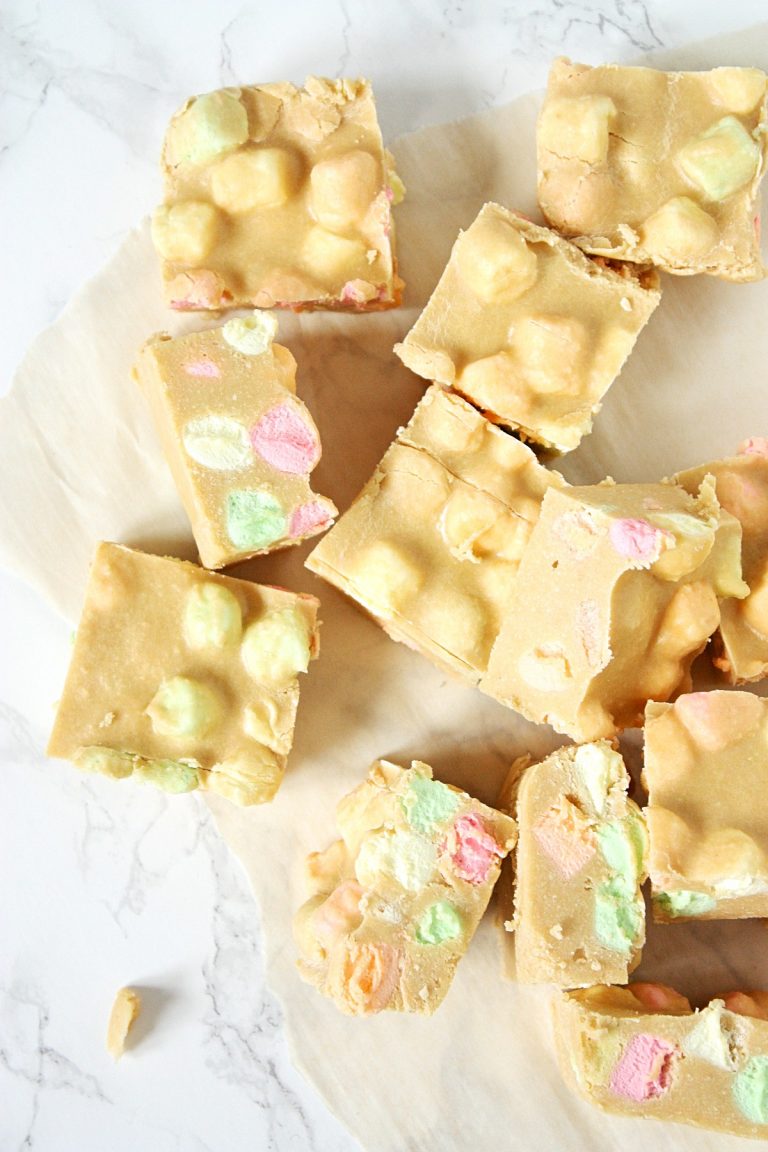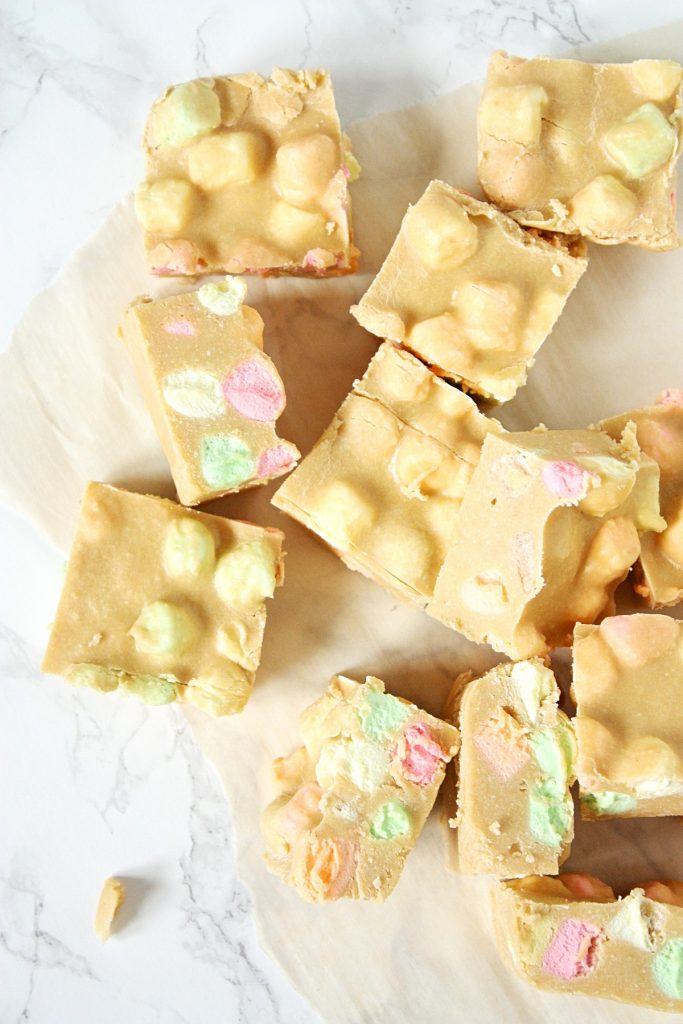 The long weekend is upon us and I say it's time to break out the goodies. Easter chocolates, decadent desserts (like these oh so good butterscotch marshmallows squares made with social tea cookies and colorful mini marshmallows), and of course calorie-loaded apps and entrees. Next week we'll eat only salad, ok?
The color palette of these sweet, butterscotchy, almost fudge-like squares is as Easter compliant as it gets. They also happen to be a kid favorite. Pretty pastel marshmallows are hard for kids (and adults) to resist. Truth.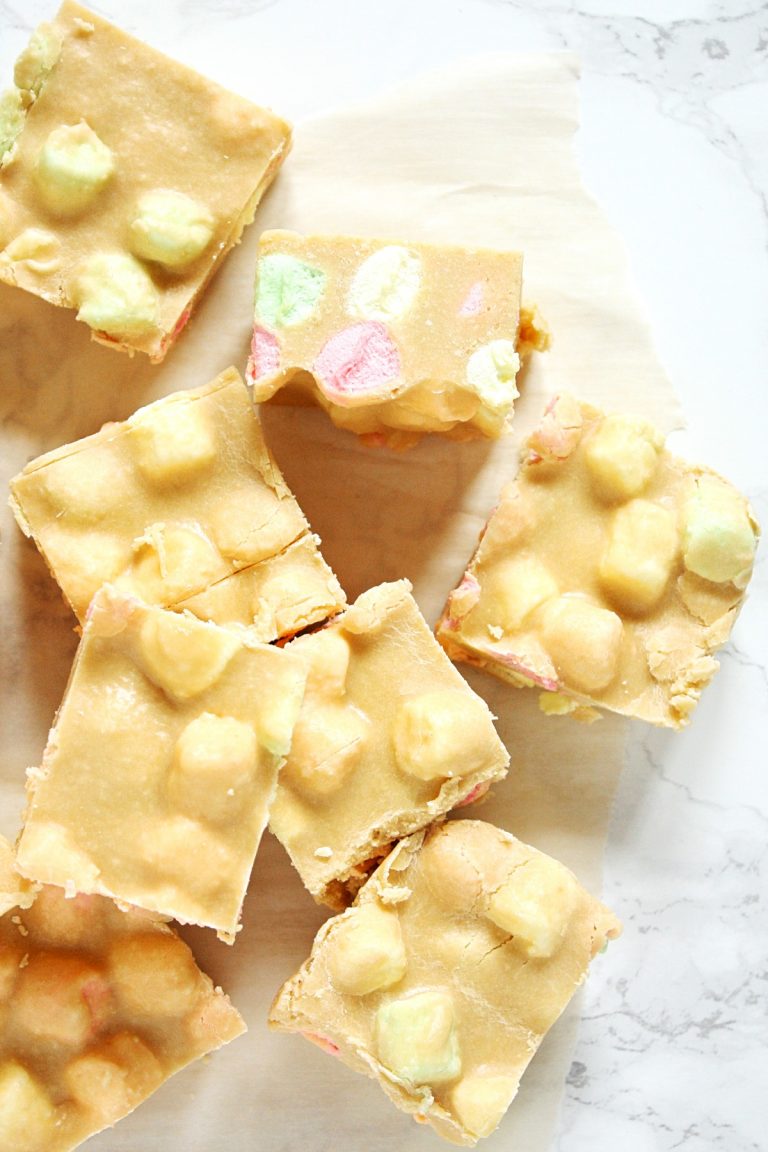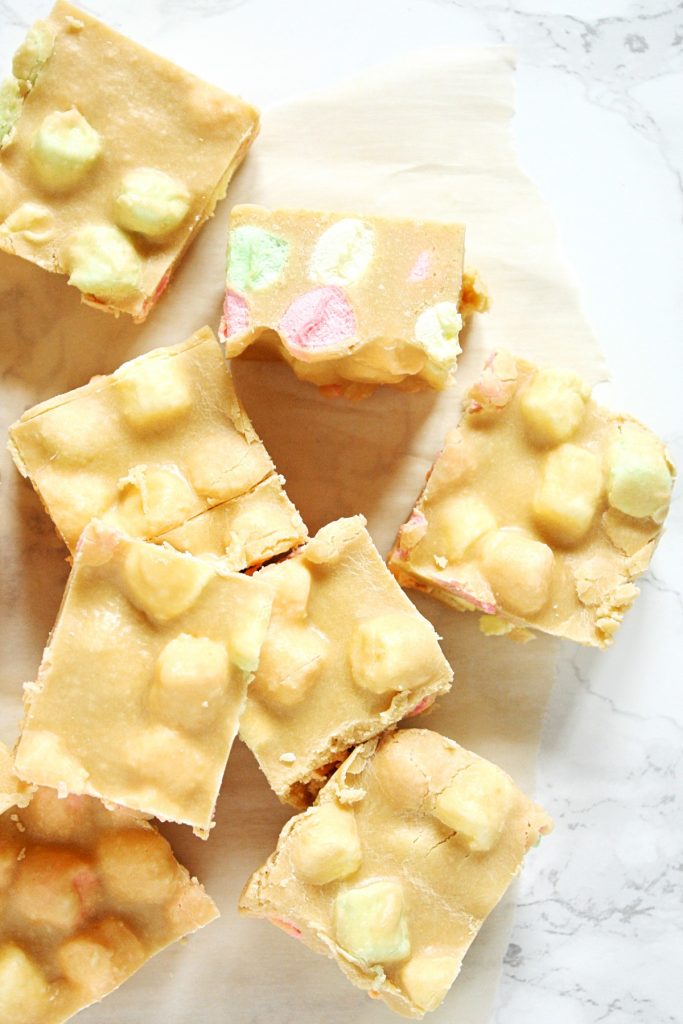 How to make these butterscotch marshmallow squares with social tea cookies:
Add 45 social tea cookies to a food processor and pulse into almost fine crumbs. Alternatively, add social tea cookies to an extra large ziplock bag, seal and use a rolling pin to crush into crumbs. Set aside.
In a double boiler (or a very heavy bottomed pot) over low heat, combine sugar and beaten eggs. Add in the butter (cut into smaller cubes), vanilla, and a pinch of kosher salt. Stir frequently for 25 minutes, until the mixture becomes thick and creamy. Do NOT bring to a boil.
Remove from heat and let cool for 10-15 minutes. Once cooled, stir in the social tea cookie crumbs, followed by the mini marshmallows.
Pour the mixture into a greased or parchment-lined 9 x 9-inch baking pan and chill in the refrigerator for 2 hours. Cut into squares and devour.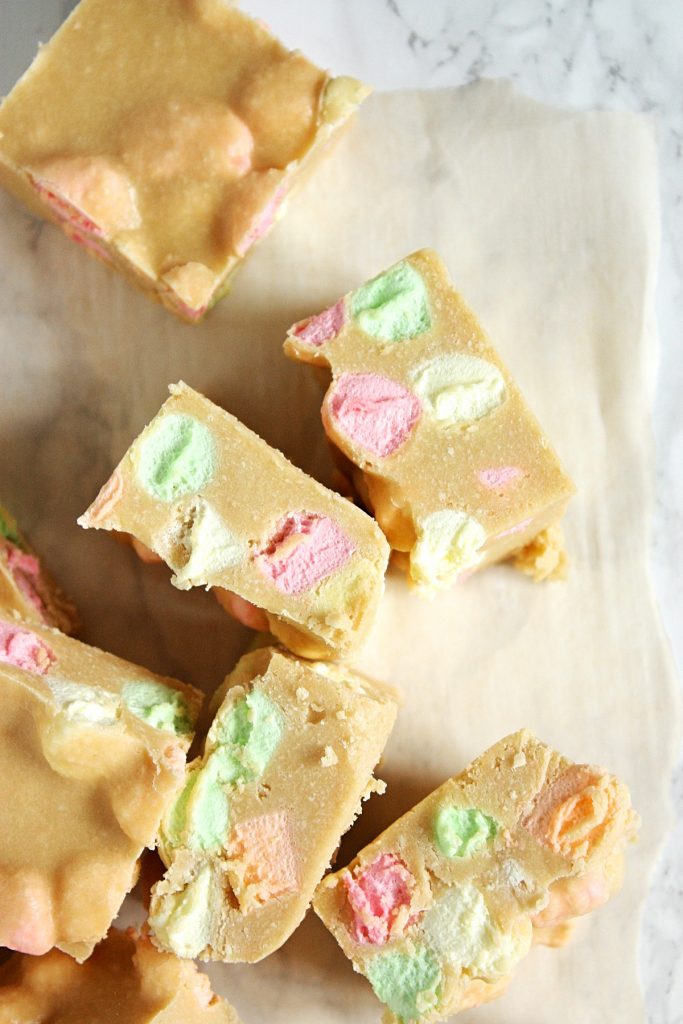 Looking for more Easter baking inspiration? Check out these Raspberry Almond Oat Squares and these tart, delicious Lemon Squares.
xo
Bri
Butterscotch Marshmallow Squares
Ingredients
1

cup

sugar

2

large eggs

well beaten

3/4

cup

butter

1

tsp

vanilla

a pinch of kosher salt

45

social tea cookies

you will need half of a 525 gram box

2

cups

mini multicolored marshmallows
Instructions
Line 9 x 9 inch baking pan with parchment paper (or grease lightly with butter) and set aside.

Add sugar, vanilla, salt and beaten eggs to a double boiler and stir. Add in butter and stir frequently while the butter melts.

Cook for 25 minutes, stirring often, until thick and smooth. Remove and let cool for 10-15 minutes (stirring once or twice).

Meanwhile, using a rolling pin or a food processor, pulse (or roll) social tea cookies into almost fine crumbs.

Add social tea cookie crumbs to the butterscotch and mix until well combined.

Stir in marshmallows and fold into the prepared baking pan. Chill in the fridge for at least 2 hours.