Mushroom Pizza Recipe with Garlic and Sage || For all my mushroom lovers, this easy mushroom pizza is for you. Loaded with flavor-packed sautéed garlicky mushrooms, finely chopped fresh sage, and cheesy pizza mozzarella rounds.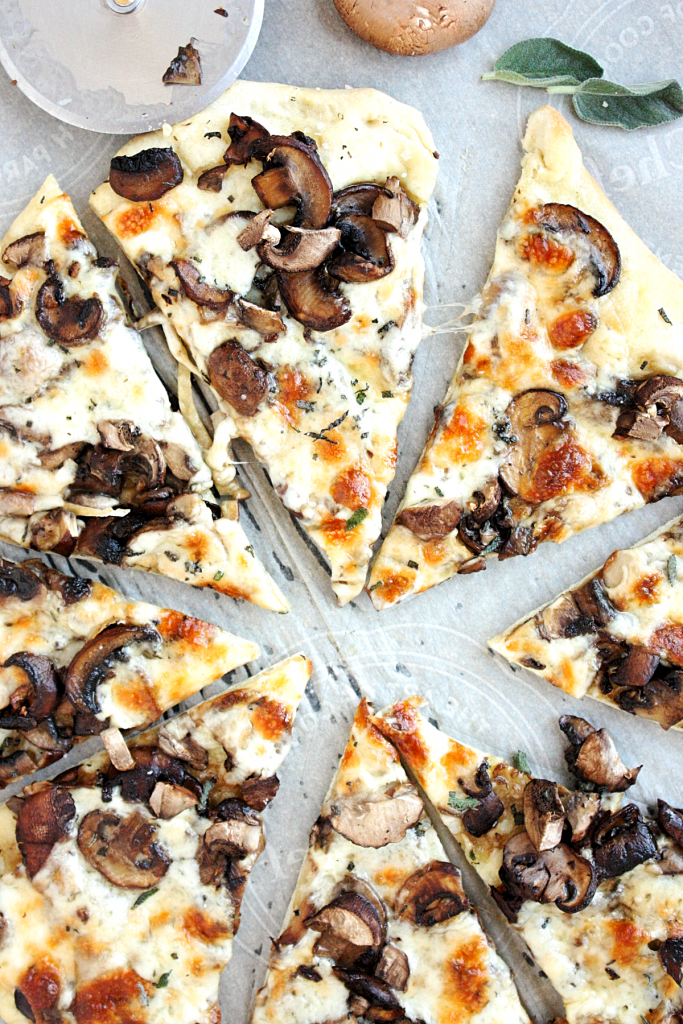 Guys, we've been eating so much homemade pizza lately, specifically this mushroom pizza recipe with garlic and sage. It's on repeat and no one's complaining.
Made with sautéed sliced cremini mushrooms, fresh sage, and pizza mozzarella rounds, this pizza is simple, satisfying, and absolute perfection at the end of the day—especially when paired with a generous glass of wine.
Let's talk pizza. Specifically…
How to make this mushroom pizza recipe:
In a large stove top pan (so the mushrooms are not crowded) add butter and freshly minced garlic. Add cremini mushrooms, sliced 1/8 of an inch thick, and cook (over medium-high heat) for 5-10 minutes, until they begin to brown and crisp. See the first picture below.
Next, gently rub the rolled out pizza dough with a mixture of olive oil and chopped sage. Pic 2.
Already time to load on the toppings—done however you please. My method? Spread 3/4 of the sautéed mushrooms over the pizza dough, top with pizza mozzarella rounds, and finally, spread the remaining sautéed mushrooms and those uncooked ones that we've set aside.
Then into a 425-degree oven for 15 minutes until golden and bubbling.
Making homemade pizza dough:

When making pizza dough, I almost always use this recipe from Ricardo, which makes two 9-inch large pizzas. What's great about this recipe? It's fast and easy. The recipe calls for quick rise yeast and needs only 30 minutes to rise (although I will let it rise for an hour or more if I have extra time). To speed up the rising, place the dough to rest in your oven (covered) and use the bread poof option (if available). Otherwise, tuck your dough into a microwave with a steaming mug of boiling water. This will create a nice warm environment for your pizza dough to rise.
There are so many homemade pizza dough recipes out there, and of course pre-made refrigerated dough, so go with whatever makes sense for your life and time constraints.
For my fellow kitchen geeks, check out this 3-minute video from the New York Times to learn how to make homemade pizza dough. I could watch pizza dough making videos all day…
xo
P.S. This roasted cauliflower chicken pizza is delicious if you're in a pizza making state of mind. And for my mushroom lovers, try out this sautéed mushroom and parmesan tart. So good.
Mushroom Pizza Recipe with Garlic and Sage
For all my mushroom lovers, this easy mushroom pizza is for you. Loaded with flavor-packed sautéed garlicky mushrooms, finely chopped fresh sage, and cheesy pizza mozzarella rounds. 
Ingredients
1

pizza dough recipe

for one 9 inch pizza*

454

grams

cremini, white button, or baby portobello mushrooms

washed, stems trimmed, sliced 1/8 inch thick

1

clove garlic

2

tbsp

butter

fresh sage leaves

finely chopped

1

tsp

olive oil

Pizza mozzarella

sliced 1/8 inch thick rounds (I use half of a 340 gram mozzarella ball)

kosher salt and fresh pepper to taste
Instructions
Prepare pizza dough recipe (if making homemade). See notes below.

Clean mushrooms, trim stems, pat dry and slice into 1/8 inch slices.

In a large stove top pan on medium-high heat, add butter and minced garlic.

Add in 3/4 of the mushrooms. Keep a small handful of uncooked mushrooms aside. Add a generous pinch of kosher salt, fresh pepper and a pinch of finely chopped sage (1/4 tsp). Cook, stirring occasionally for 5-10 minutes until any excess water released has cooked off and the mushrooms are just beginning to crisp and brown.

Meanwhile, preheat oven to 425 degrees and slice pizza mozzarella ball into 1/8 inch thick rounds. Set aside for assembly.

Place pizza dough on an olive oil greased baking sheet (or pizza stone).

In a small bowl, mix 1 tsp of olive oil with 1/2 tsp finely chopped sage. Pour onto the pizza dough and use a brush or your fingers to coat the dough, all the way to the edges.

Evenly spread most of the cooked mushrooms over the dough. Place pizza mozzarella over top (spread out for max coverage). Sprinkle the remaining cooked and uncooked mushrooms over top and garnish with another 1/2 tsp of chopped sage.

Bake at 425 for 15-20 minutes, until golden and bubbling.
Notes
I use this pizza dough recipe from Ricardo all the time. It's fast and simple.
NOTE: This recipe makes enough dough for two 9-inch pizzas, and the recipe above is for one 9-inch pizza, so be sure to double the mushrooms, cheese, and sauce if making the dough recipe below. 
2

 

cups

 

all-purpose flour

(

plus more when kneading)

1

 

tsp

 

salt

1

 

cup

 

warm water

 

very warm, but not scalding

1

 

tsp

 

quick active yeast

1

 

tsp

 

sugar

 
In a large mixing bowl, whisk flour and salt.

In a small bowl, stir together warm water, yeast, and sugar. Let sit for 5 minutes—the yeast should bloom.

Add water mixture slowly to the flour stirring with a wooden spoon until a dough begins to form.

At this point, tip the dough onto a lightly floured surface and knead until a smooth ball is formed. You'll need to sprinkle in extra flour to reach the perfect consistency (this usually amounts to an extra 1/4 cup of flour).

NOTE: The dough should feel smooth, be easy to handle, no longer sticky and not dry.

Place in a well-oiled bowl, cover with a clean tea towel and place somewhere warm to rise for at least 30 minutes. I stick my dough in the microwave with a mug of boiling water.

Tip dough onto a floured surface and roll out into a large rectangle, the size of your baking sheet. Carefully transfer the rolled out dough onto the well greased baking sheet.